Resources
Air Movers
Rotovac carries the finest selection of work strength air movers to help dry your customer's carpets faster! If you have any questions on any of these air movers call us today at (888) 768-6822.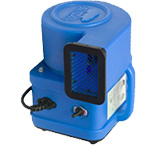 by B-Air
Part #: FX-1
¼ HP motor
2.6 amps
375 CFM
11 LBS
On-Board GFCI
Built in sturdy handle
Heavy duty housing
Rubber feet, to prevent scratching of flooring.
Available in Red, Blue and Green
Available in 115V or 230V
Can be positioned 3 different ways
Safety Locks to fasten Drying Duct Kit (#CDDK)
1 Year Warranty / 5 Years on Housing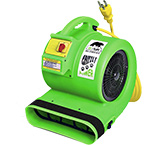 by B-Air
Part #: grizzly-1-hp
1 HP
Powerful 3550 CFM
Low 9.8 Amps
C-UL-US Approved
3-Speed / 4 Positions
Swing Out Kick-Stand
Safety Locks to fasten Drying Duck Kit (#DDK)
Available in Safety Green or Black
25 Ft Cord
Handle Designed for Balanced Carrying
Exclusive Fan Blade Design
1 Year Warranty / 5 Years on Housing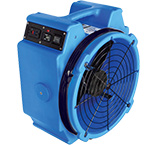 by B-Air
Part #: polar-1-4-hp
3300 CFM
2 speed, low amp draw (2.4/2.8)
Daisy-chain up to 5 units
On board GFCI protects the air mover and attached devices
Adjustable height feature – use it level or at a downward angle
Hour meter
18" ducting easily attaches to outlet for more versatility
Stackable horizontally and vertically
360° positioning with optional stand
Sealed motor makes for easy and safe cleaning
30 lbs
C-ETL-US certified for safety
25' cord
Available in Red, Blue and Green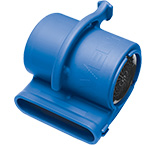 by B-Air
Part #: vent-vp-33
1/3 HP
2530 CFM
Low 2.9 Amps
ETL Certified
On Board GFCI
2 Speed
26 lbs
Stackable
25FT Cord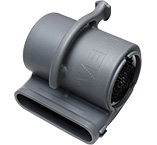 by B-Air
Part #: vent-vp-50
0.50 HP
2950 CFM
Low 4.5 Amps
2 Speed
26 lbs
Stackable
25FT Cord
Century 400 Hurricane Pro
by Century 400
Part #: 400-26C
Selection of three speeds of air movement for maximum performance on every type of job.
Rugged continuous duty motor with capacitor start, thermally protected with four point mount.
Three standard positions allow air to be directed at diffrent angles.
VIEW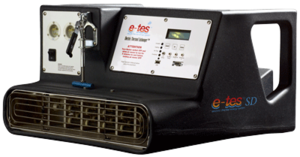 E-TES SD 120V Low-Profile
by TES
Part #: MB120LP
Smaller profile allows the E-TES to fit into tight areas, such as crawl spaces
Lighter weight, only 30 lbs
Built-in ergonomic handles make it easier to carry multiple E-TES units
Staight through air flow, more air flow and less internal turbulence
Micro-processor
LCD display
Built-in hour meter
Real time clock
Humidity and temperature sensor
NEC® compliant
Dual circuit indicator (120 volt)
GFCI protection
Airflow and triple heat safety shut off
50' GFCI cord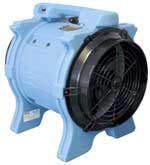 by Dri-Eaz
Part #: AC73
This Dri-Eaz airmover will ventilate confined spaces through up to 125 feet of Sto & Go ducting. The Vortex uses a 12" axial fan blade to pull musty air out or propel fresh air in to inaccessible areas. It's also an ideal choice for drying large open areas like gyms, concrete pads, hallways, etc.
Vortex Axial Fan Benefits:
Powerful 1.0 hp motor
Built-in handle
Stackable for storage!
Operate standalone or with Sto & Go ducting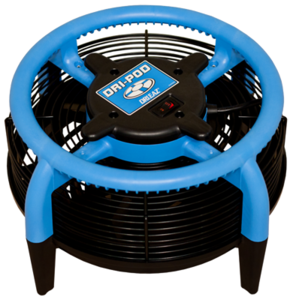 by Dri-Eaz
Part #: AC616
The Dri-Pod airmover from Dri-Eaz is designed to deliver a high volume of air in a 360° pattern. Perfect for delivering air throughout a room with one small unit!
Dri-Eaz Sahara HD TurboDryer
by Dri-Eaz
Part #: AC651
This new airmover has the CFM and static pressure needed to power through drying challenges.  This durable and reliable performer works especially well for applications that require stronger static pressure, like drying in walls, under cabinets and in crawlspaces.
Sahara HD TurboDryer® Features and Benefits:
Underside drying vent for drying under the airmover
MICROBAN® antimicrobial protection
Quick disassembly for cleaning
Easy-grip handle
Stackable for storage
Dri-Eaz Sahara E TurboDryer
by Dri-Eaz
Part #: AC621
Get the durability and reliability of the Sahara at an economical price.
Sahara E TurboDryer® Features and Benefits:
Underside drying vent
MICROBAN® antimicrobial protection
Quick disassembly for cleaning
Easy-grip handle
Stackable for storage
Dri-Eaz Studebaker AirPath
by Dri-Eaz
Part #: F377
Now you can dry carpets and hard surface floors using the same unit! The new innovative AirPath includes locking wheel casters to keep the unit firmly in place when drying hard surface floors plus legendary Dri-Eaz durability in a new rugged roto-molded design.
VIEW
by AirKing
Part #: AC081
Each unit draws only .75 amps
One 15 amp circuit will run 20 blowers
Plug-in one blower to the wall - then string 12 more blowers - one
plugged into another
Black Max Downdraft Dryer
by Powr-Flite
Part #: PD10K
The Black Max Downdraft Dryer incorporates the revolutionary Swept Fan & blade design that creates an astounding 9800 CFM at over 44 MPH that maximizes surfacecoverage and minimizes drying times.
VIEW
by US Products
Part #: -
The Ace TurboDryer features high air flow of 2,000 CFM tested, low amp draw of 1.5 amps and versatility with six different operating positions. This combination of power, efficiency and versatility allows assembling of the most effective drying system available.
VIEW
Focal Point Axial Air Mover
by OmniDry
Part #: AC246
Axial fans have revolutionized water restoration and the Focal Point is the next evolutionary step in axial fans. The patent pending technology produces air velocities at least 40% greater than competitive products! The Focal Point is a 2-speed fan that draws only 2.5 amps so multiple units can be used on the same circuit. It delivers a focused 3,000 CFM air stream and sustains these velocities over 22.5 feet!
by OmniDry
Part #: AC25A
Daisy Chain
Exceptional air-flow
2.9 amps on High
1.9 amps on Low
Balanced airflow for quieter operation
Lightweight, washable & chemical resistant housing
Units nest for ease of stacking during storage and handling
1 year warranty
5 year warranty on the housing
by OmniDry
Part #: AC8400
Perfect for under sinks, behind cabinets and permanent furniture. Its portability makes drying a breeze. All in one containment allows the operator simple, on-the-go equipment. Just bore a 1/2" hole, plug in the end hose and begin drying. The on-board plug-off system allows for simple plugging of unused tubes.
by Octi-Dry
Part #: AC511
When water damage occurs and saturates the wall structure, fast drying is essential. Octi-Dry warm air through the wall structure, directing it where it is needed most. This results in more thorough structural drying. The Oct-Dry System works so quickly that in most cases you can avoid major disruption of the customer's home or business. A proven history of QUICK RESPONSE and proper drying, helps to limit the effects of secondary damage, which can meet or exceed that of the original water intrusion.
-
Part #: AC262A
Strong, 4.5-mil poly ducting for nearly any application. Use as much as you need for various sized jobs. Send the air wherever you need it to go. 500 feet per roll.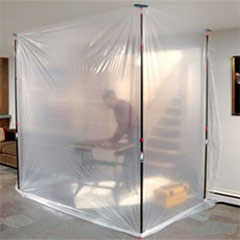 Zip Wall Containment System
By ZipWall
Part #: AX05
Whenever separation and control of your area is required, ZipWall is the answer. The ZipWall poles are topped with the patent pending ZipWall jacks which hold and attach plastic sheeting (not included) wherever needed. ZipWall Kit includes two extension poles and ZipWall jacks.